Egg Tray Drying Oven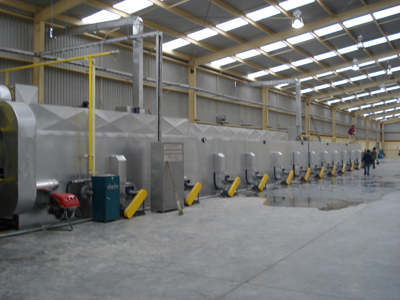 | | |
| --- | --- |
| | Equipments |
The egg tray conveyor carries those wet products through a drying oven where most of the balance of water content of the products is evaporated off by means of re-circulating hot air until the products have only 8% moisture left.
There are two types of drying oven, single layer drying tunnel and multi layer drying oven; while the first one is more cost-effective but shorter in distance (30m) and occupies larger land; the second type less in size, longer drying distance and consumes less energy.
The egg tray drying section consists of a direct-fired natural gas (or oil) re-circulating air dryer with a pass conveyor carrying the wet products through the heated dryer tunnel. An endless chain conveyor system conveys them through in the dryer tunnel while re-circulated hot air is blown from the top through the layers. The dried egg tray are then discharged to an unloading conveyor where they are automatically stacked, counted.


Machine data
Comparison of CLIMA Machine Specifications:
Machines

KWH
per day

Natural gas m3
per day

Water L
per day

Waste paper kg
per day

Building
Size (sq. m.)

Hourly
Staff

Shipping
Data

4000

5200

3000

10000

6000

500

12

4 containers

2880

2630

2000

7800

3900

450

12

3containers

2160

2200

1600

6000

3000

400

12

3 containers

720

900

500

2000

1000

300

9

2 containers
Egg tray molding machine

Egg tray molding machine

Egg tray molding machine